Customized Bottled Water
Great for schools, fundraisers, fitness centers, companies, and more!
The Water Store offers custom label bottled water on our single serving size bottles of water (16 oz). These labels can have your organization's name and logo or they can have unique designs tailored specifically to your needs.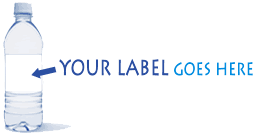 BUSINESS ADVERTISING
Custom label bottled water is a versatile marketing tool for your company whether you sell it for profit or offer it free as a promotional tool. Clients will carry your message out the door to be seen by future customers.
PRIVATE CELEBRATIONS
Create a custom label for your next special occasion to make it extra memorable. This is a unique idea for weddings, birthdays, anniversaries, reunions, retirement parties, and more.
CLUB & TEAM FUNDRAISERS
Let us show you how to take full advantage of the fundraising potential in bottled water with your group's logo or message on the bottle. A custom label is the perfect way for your group to raise money.
PROMOTING EVENTS
Announce grand openings, generate excitement before product launches, publicize festivals... you name it! Let bottled water carry your message before, during, and after the event.
Experience the Purity of Our Water
Enjoy Better Tasting Brewed Beverages in Your Home or Office Today!